AIR CONDITIONING & VENTILATION SPECIALISTS
Crown Air Conditioning have extensive experience in designing and installing industry leading Air conditioning and ventilation systems for commercial and residential applications. We cover London and the surrounding counties.
We pride ourselves on our high level of customer service in all aspects of our business, from air conditioning design, installation, service and maintenance to breakdown, repair and portable hire. Whether you need a residential, commercial or industrial application, we want you to be completely satisfied so that you'll want to use us again and refer us to others.
Through our high level of workmanship and installations of top quality Air conditioning and ventilation systems we have been able to grow our business to achieve a substantial client base, with the majority of our new business gained through recommendation. As a company we feel that it is very important to create a personal service and in doing so we concentrate very closely on customer service.
Our service and maintenance department work with each individual client to tailor packages to suit their needs. As an independent company we take great pride in our provision of unbiased advice to ensure our customers receive the best solution for their Air conditioning and ventilation requirements.
Get in touch
Please call us on 01737 668310 or use the contact form below.
Air conditioning Repair Reigate
There's little point in having an air conditioning system if it isn't up to scratch. Designed to combat the problems associated with unreliable and inefficient systems, our air conditioning repair services are available to customers in Reigate.
Repairs and maintenance can bring dramatic improvements to the performance of a system. Professional maintenance and repairs can help to prevent the build-up of dust and bacteria: although this happens naturally in all systems, it must be dealt with on a regular basis to prevent unpleasant smells and a reduced air flow. Bacteria in an air conditioning system can result in health problems or poor performance and a complete system failure.
Air conditioning repair and advice covering the Reigate area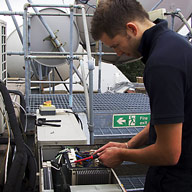 We offer a range of air conditioning repair and maintenance services which are available to business, commercial and residential customers in Reigate. We can repair or service your system even if it was installed by someone else and if you are interested in our Planned Preventative Maintenance packages, we'd be happy to provide you with a free quote. We offer a range of service and maintenance packages, with options to suit all systems and budgets. A one-off service is a great way of ensuring your system is working efficiently and ready to cope with the heat of summer, whilst an annual service contract will provide peace of mind. However much or little servicing you feel your air conditioning system needs; we can create a bespoke maintenance package to suit your needs perfectly.
An air conditioning system can be an expensive investment, especially systems which are designed for use in large industrial or commercial buildings. With this in mind, you'll want the reassurance that your air conditioning system is in safe hands. We have a team of engineers of have all undergone rigorous training which covers all aspects of air conditioning repairs, servicing and installation. As further reassurance, our team have all been trained to meet the rigorous standards required to meet Safe Handling regulations and the City & Guilds Training board.
Our air conditioning repair services are available throughout Reigate and alongside these services; we also have the expertise to install a wide range of air conditioning systems. Designed to offer exceptional value and reliability, an air conditioning system installed by Crown Air Conditioning comes with a range of benefits; from our reputation for unbeatable customer service through to our commitment to installing only the highest quality systems at great-value prices. Our repair and installation services cover some of the biggest brands in air conditioning and if you're considering buying a new system, we can offer a range of products with options to suit all budgets and requirements.
If you're looking for an air conditioning repair specialist in Reigate why not get in touch with us today? We promise to offer quality, value and exceptional customer service at all times and whether you have a system which needs repairing or are considering buying a new air conditioning system, we'd be delighted to offer free, no-obligation advice.
Call us today on 01737 668310
We install, service and repair the best quality air conditioning systems, including: