AIR CONDITIONING & VENTILATION SPECIALISTS
Crown Air Conditioning have extensive experience in designing and installing industry leading Air conditioning and ventilation systems for commercial and residential applications. We cover London and the surrounding counties.
We pride ourselves on our high level of customer service in all aspects of our business, from air conditioning design, installation, service and maintenance to breakdown, repair and portable hire. Whether you need a residential, commercial or industrial application, we want you to be completely satisfied so that you'll want to use us again and refer us to others.
Through our high level of workmanship and installations of top quality Air conditioning and ventilation systems we have been able to grow our business to achieve a substantial client base, with the majority of our new business gained through recommendation. As a company we feel that it is very important to create a personal service and in doing so we concentrate very closely on customer service.
Our service and maintenance department work with each individual client to tailor packages to suit their needs. As an independent company we take great pride in our provision of unbiased advice to ensure our customers receive the best solution for their Air conditioning and ventilation requirements.
Get in touch
Please call us on 01737 668310 or use the contact form below.
Air conditioning Installers Guildford
An effective way to cool down or heat a home or workplace, air conditioning can be installed in buildings of all shapes and sizes. As specialist air conditioning installers in Guildford, here at Crown Air Conditioning, we have the expertise to fit a range of different types of air conditioning systems.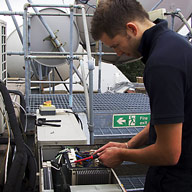 We know that when it comes to air conditioning one size does not fit all and part of our commitment to customer service is a promise to find a system that meets your requirements and budget. Commercial or industrial buildings, for example, usually need fairly complex, ducted systems, whilst domestic properties can benefit from a simple wall-mounted system. We are specialist air conditioning installers operating throughout Guildford and our expertise covers a wide range of products, including portable systems and extensive ducted systems. Whether you're looking for an economical system for your home, or a large-scale system for an industrial building, we're happy to offer free, impartial advice and information.
Air conditioning installation and servicing covering the Guildford area
Low-quality, cheap air conditioning systems are prone to break down and any savings you might make on the initial price will soon be lost to increased running costs. We only install the best air-conditioning systems available, including products made by high-quality brands such as Daikin, LG, Fujitsu and Mitsubishi Electric.
A schedule of regular servicing and maintenance is very important for all air conditioning systems. A range of problems can arise in poorly maintained systems, including poor air quality and unpleasant smells. You'll find that our reliable services don't stop once the installation is over and we offer a range of service and maintenance packages which can be tailor-made to suit all budgets and requirements.
Although we know that our range of air conditioning products will provide many years of reliable service, we know that a fitted or ducted system isn't appropriate for everyone. Portable or rented equipment can offer the ideal solution for customers looking for complete flexibility. Here at Crown Air Conditioning we offer a range of equipment rental packages, designed to offer unbeatable value for money, flexibility and convenience.
We are established air conditioning installers and you'll find that our skilled engineers operate throughout the Guildford. We take great pride in our reputation for offering unbeatable customer service and you'll find that our installation services are backed-up by the very best in after-sales support, servicing and repairs. Our company has been built upon a foundation of excellent customer service and if you'd like to work with an air conditioning specialist with a difference, why not get in touch with us?
Call us today on 01737 668310
We install, service and repair the best quality air conditioning systems, including: